Successful Scholarships Programe Celebrated
29 November 2010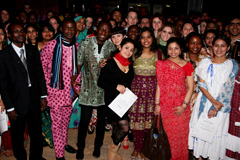 Speaking at a reception for some of the University's 750 scholarships students, Dr Mark Collins said that Westminster's commitment to its £4.8m scholarships programme – the largest of any UK university – underlined the mission "to provide high quality education for as many as possible, regardless of their financial position".
He told guests: "I particularly like the emphasis of the international scholarships scheme, which is to help nations as well as individuals. The idea is to build capacity and enable knowledge transfer to your countries, while at the same time providing life and career enhancing opportunities to all of you."
The University of Westminster currently has students from over 150 different countries, and there are more than 80 nationalities among the students holding scholarships this year.
Many of the sponsorships are offered in partnership with businesses, organisations and individuals keen to support educational opportunities at Westminster. Among the main donors who have joined the scholarships programme this year are:
Santander – Westminster is now part of the Santander Universities group, and the bank is providing £30,000 over three years to help students from Iberamerica and the UK
Cosmur – the construction company is providing a full, three-year scholarship for an EU/UK undergraduate to study architecture.
Vikram Mathur, the head of our alumni in India – he and his family have recently made a significant donation to the Scholarship Fund
Rikki Morgan-Tamosunas, Deputy Vice-Chancellor of the University of Westminster, said that with the current difficult conditions facing education funding, philanthropic support from all areas – businesses, charitable trusts, individuals donors and alumni – is playing an increasingly essential role in providing educational opportunities.
"From humble beginnings, we have this year disbursed scholarships to the value of £4.8m; obviously, we could not have done this alone and one of my pleasant tasks tonight is to thank all of our partners in the scheme," said Mrs Morgan-Tamosunas.
"Alongside our major corporate partners and donors, many members of staff, Governors and friends of the university also contribute on an individual basis.
"We are very grateful to all our partners, and it is true to say that without them the scholarships scheme would never have developed the way it has.
The work on strengthening scholarships available to promising young talent will become increasingly important with the imminent changes in how higher education funding is structured. Although we are today able to fund about 760 students each year, we have to turn away at least a further 3,000 strong applicants every year. To address this, we need to raise funds for an additional 100 scholarships annually and we will be actively seeking to extend our network of friends and supporters for the future.
More information about the the University of Westminster Scholarships Programme is available online.
Find out how you can support the cause on Alumni Online.
---
About the University of Westminster:
The University of Westminster boasts a vibrant learning environment attracting more than 20,000 students from over 150 nations and we continue to invest in our future with new developments, research projects and new ideas.
We offer highly attractive practice-based courses that are independently rated as excellent, many with international recognition. Our distinguished 180-year history has meant we lead the way in many areas of research, particularly politics, media, art and design, architecture and biomedical sciences, and our position in the city of London allows us to continue to build on our close connections with leading figures and organisations in these areas as well as in the worlds of business, information technology, politics and law.
Our commitment to educating graduates for the needs of professional life attracts high quality students from within the UK and around the globe.
Internationalisation, employability and sustainability are key elements in the University of Westminster's vision for the future and we strive to ensure the very highest standards are met and maintained.
Here we hope you find everything you will need to research, write and publish your story or blog post.