Prestigious Award for Two University of Westminster Architecture students
2 December 2010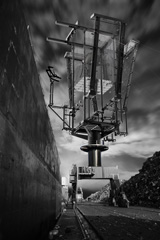 Two architecture students from the University of Westminster's Graduate Diploma in Architecture course, Jonathan Schofield and Clare Richards, have won two out of three prestigious Royal Institute of British Architects (RIBA) President's Medals Student Awards 2010 (in association with Atkins).
These latest awards confirm the University of Westminster faculty as one of the leading global architecture schools. The RIBA Dissertation Medal has been won by the School five times in succession during the last six years, and this is the fourth time students from the Graduate Diploma in Architecture have won the RIBA Silver Medal in the same time period. The School of Architecture and the Built Environment has a unique ethos of combining practice and theory with leading architecture businesses, as well as professors and tutors being active in practice and teaching.
The President's Medals Student Awards promote excellence in the study of architecture, rewarding talent and encouraging architectural debate world-wide. This year a record number of 270 schools of architecture, from over 60 countries, were invited to nominate two of their best student design projects at Part 1 (first degree), two at Part 2 (second degree) and one dissertation. The Silver and Bronze Medals are awarded to the best Part 2 and Part 1 design projects respectively, and the Dissertation Medal is awarded for the best exploration of different subjects, methodologies and presentations.
Creative Evolution by Jonathan Schofield
Jonathan Schofield won the Silver Medal for his project Creative Evolution - Silvertown Ship Breaking Yard and Clare Richards took the Dissertation Medal for her work, Happy Communities. Jack Hudspith from the Mackintosh School of Architecture (Glasgow School of Art) also won the Bronze Medal for his project Cook School.
Kate Heron, Head of Architecture at the University of Westminster says: "The University's RIBA President's Medals competition prize winners once again demonstrate the outstanding quality at the School and show the standard of architectural teaching is amongst the very best in the world. We are very proud of Jonathan and Clare's achievement and our congratulations also go to their tutors, William Firebrace, Gabby Shawcross and Dr John Bold.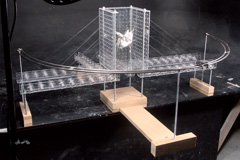 "The University has consistently opposed public funding cuts to higher education. Through Universities UK we have made a strong case for the public benefits of higher education, and for these to be recognised through public funding for university teaching. We hope to continue in offering world class architectural training in a supportive and dynamic environment to a cross section of the UK and international student community."
The winners were presented with their Medals by the RIBA President, Ruth Reed, at a ceremony held last night, 1 December, at the Institute's London headquarters.
For further information and to arrange interviews, please contact:
Mark Knight, Sarah Evans-Toyne or Jo McGilway
Broadgate Mainland
E: [email protected]
T: +44(0) 20 7726 6111
Notes to Editors:
The University of Westminster is a diverse and dynamic international education institution situated in Harrow and the heart of London, one of the world's great cities. With a vibrant learning environment and a commitment to educating for professional life, the University has a distinguished 170-year history, and continues to attract more than 20,000 students from 150 different nations. A wide range of Westminster's courses are independently rated as excellent, and the University's research leads the way in many areas including art and design, electronic engineering, and media. Internationalisation, employability and sustainability are key elements of the University's vision for the future.
The School of Architecture and the Built Environment (SABE) at the University of Westminster is one of the country's leading centres for teaching and research in Architecture and the Built Environment. With over 2000 students, SABE is also one of the largest providers of built environment education in the country. Courses range from Foundation level, providing access to University degrees, right through to an ever-expanding cohort of PhD students. The quality of research at SABE was recognised in the last Research Assessment Exercise in which 20% of the research in Architecture and the Built Environment was judged as 'world-leading', and 90% as 'international'. A range of high-level consultancy activities complements this research, and brings knowledge directly to bear in the outside world.
---
About the University of Westminster:
The University of Westminster boasts a vibrant learning environment attracting more than 20,000 students from over 150 nations and we continue to invest in our future with new developments, research projects and new ideas.
We offer highly attractive practice-based courses that are independently rated as excellent, many with international recognition. Our distinguished 180-year history has meant we lead the way in many areas of research, particularly politics, media, art and design, architecture and biomedical sciences, and our position in the city of London allows us to continue to build on our close connections with leading figures and organisations in these areas as well as in the worlds of business, information technology, politics and law.
Our commitment to educating graduates for the needs of professional life attracts high quality students from within the UK and around the globe.
Internationalisation, employability and sustainability are key elements in the University of Westminster's vision for the future and we strive to ensure the very highest standards are met and maintained.
Here we hope you find everything you will need to research, write and publish your story or blog post.