New Westminster Business School Undergraduate Scholarship Announced
21 December 2010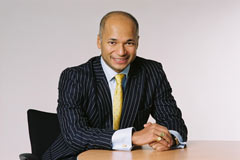 The scholarship will cover 62 per cent of tuition fees for each selected candidate. Candidates will be selected through a competitive process, based on financial need, aspirations in the field of study and academic excellence.
The scholarship has been made possible through the generosity of Moorad Choudhry, who graduated in 1988 with a BA (Hons) in Social Sciences from the Polytechnic of Central London, the University of Westminster's predecessor.
Professor Choudhry is a finance specialist and author whose career has spanned the banking industry and academia.
"Coming to study at Central London Poly, as it was then known, was one of the better decisions I've made in my life. I especially remember the friendly atmosphere and the excellence of the academic staff. I'm proud to be associated with the University of Westminster," he said.
''We are delighted at this new scholarship opportunity for our undergraduate students from the UK. It comes as a great encouragement and support at a crucial point,'' said Professor Jean Woodall, Dean of WBS.
''This scholarship will hold a special place as it will be one of the first of the hundred new scholarships we are hoping to establish in the coming years for the benefit of our students,'' said Colin Matheson, Director of Scholarships at the University.
The application deadline is 3 April 2011. For more details on scholarships please visit the scholarships web pages.
Additional information about the current scholarships appeal and how you can help is available here, or you can contact Marija Milosavljević, Development Manager, +44 (0)20 7911 5195, [email protected].
---
About the University of Westminster:
The University of Westminster boasts a vibrant learning environment attracting more than 20,000 students from over 150 nations and we continue to invest in our future with new developments, research projects and new ideas.
We offer highly attractive practice-based courses that are independently rated as excellent, many with international recognition. Our distinguished 180-year history has meant we lead the way in many areas of research, particularly politics, media, art and design, architecture and biomedical sciences, and our position in the city of London allows us to continue to build on our close connections with leading figures and organisations in these areas as well as in the worlds of business, information technology, politics and law.
Our commitment to educating graduates for the needs of professional life attracts high quality students from within the UK and around the globe.
Internationalisation, employability and sustainability are key elements in the University of Westminster's vision for the future and we strive to ensure the very highest standards are met and maintained.
Here we hope you find everything you will need to research, write and publish your story or blog post.