New Westminster Business School Undergraduate Scholarship Announced
21 December 2010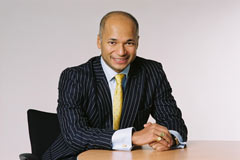 The scholarship will cover tuition fees for two candidates, who will be selected through a competitive process, based on financial need, aspirations in the field of study and academic excellence.
The scholarship has been made possible through the generosity of Moorad Choudhry, who graduated in 1988 with a BA (Hons) in Social Sciences from the Polytechnic of Central London, the University of Westminster's predecessor.
Professor Choudhry is a finance specialist and author whose career has spanned the banking industry and academia.
"Coming to study at Central London Poly, as it was then known, was one of the better decisions I've made in my life. I especially remember the friendly atmosphere and the excellence of the academic staff. I'm proud to be associated with the University of Westminster," he said.
''We are delighted at this new scholarship opportunity for our undergraduate students from the UK. It comes as a great encouragement and support at a crucial point,'' said Professor Jean Woodall, Dean of WBS.
''This scholarship will hold a special place as it will be one of the first of the hundred new scholarships we are hoping to establish in the coming years for the benefit of our students,'' said Colin Matheson, Director of Scholarships at the University.
For more details on scholarships please visit the scholarships web pages.
---
About Westminster Business School:
Westminster Business School, University of Westminster, is one of London's leading centres for professional business education. The School offers a wide range of undergraduate, postgraduate and professional programmes, including the AMBA accredited MBA.
All of our degrees are professionally focused and prepare students for working in their chosen careers. Alongside our quality courses, students have opportunities to enhance their practical experience through internships, professional placements and study abroad. Our central London location provides strong links with the business and government communities enabling us to bring practitioners and experts into the classroom on a regular basis.
We have a diverse student population which reflects London's demographic variety and every year we welcome hundreds of students from Asia, Australia, continental Europe and the United States. We also have visiting scholars and researchers from all over the world. Although we are a school with a strongly international outlook, we also offer a range of part-time qualifications for working professionals.
Here we hope you find everything you will need to research, write and publish your story or blog post.