New course: MEng/BEng Biochemical Engineering – places available
14 May 2010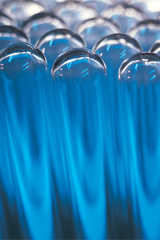 Available as a four year integrated Master of Engineering (MEng Biochemical Engineering) programme or a three year Bachelor of Engineering (BEng Honours Biochemical Engineering) programme. This is a new programme designed to address the skills required for tomorrow's biochemical engineers. Prospective students will have the opportunity to enrol through the UCAS clearing system.
The School of Life Sciences has well equipped laboratories that were extensively refurbished this year. Specialist laboratory equipment and software packages are available for biochemical engineering students ensuring that the programme is relevant to industry needs whilst providing students with a challenging and rewarding course.
UCAS institution code: W50
UCAS course codes: MEng - H813, BEng - H811
Typical A Level offer for September 2010 – BBB (to include Maths and one Science subject).
Click here to view a feature from the Courses Extra magazine (May 2010) on Biochemical Engineering
For further information please visit westminster.ac.uk/biochemicalengineering
or contact the Course Enquiries team, call 020 7915 5511 or email [email protected]
---
About the University of Westminster:
The University of Westminster boasts a vibrant learning environment attracting more than 20,000 students from over 150 nations and we continue to invest in our future with new developments, research projects and new ideas.
We offer highly attractive practice-based courses that are independently rated as excellent, many with international recognition. Our distinguished 180-year history has meant we lead the way in many areas of research, particularly politics, media, art and design, architecture and biomedical sciences, and our position in the city of London allows us to continue to build on our close connections with leading figures and organisations in these areas as well as in the worlds of business, information technology, politics and law.
Our commitment to educating graduates for the needs of professional life attracts high quality students from within the UK and around the globe.
Internationalisation, employability and sustainability are key elements in the University of Westminster's vision for the future and we strive to ensure the very highest standards are met and maintained.
Here we hope you find everything you will need to research, write and publish your story or blog post.