National Teaching Fellowship is 'higher education's answer to winning Wimbledon' says proud Westminster lecturer
28 June 2010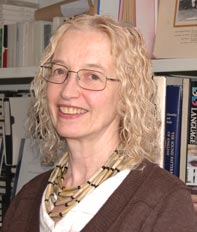 Patricia, who has worked at Westminster since 1975, has an international reputation as a practicing phonetician, teacher of phonetics and researcher in phonetic pedagogy.
A principal lecturer in the Department of English, Linguistics and Cultural Studies within the University's School of Social Sciences, Humanities and Languages, Patricia is described by the Higher Education Academy (HEA), which awards the annual Fellowships, as making "skilful use of new technologies to enliven what students often find dull".
"Her development of student-centred, enquiry-based learning-through-assessment strategies has demonstrably enhanced success," adds the HEA.
Patricia said of her award: "Coming near the end of a long career this is both an astonishing and proud moment – higher education's answer to winning Wimbledon.
"Student achievement and feedback has always persuaded me that a least some of what I do is right, and invitations to speak about this suggest there is wider interest, but the NTF award is a mandate that will enable me to continue exploring my passionate interest in the learning process and the contribution to that process that we can make through teaching, facilitating and assessing learners."
The award winners were chosen from nearly 200 nominations submitted by higher education institutions across England and Northern Ireland and each will receive an award of £10,000.
---
About the University of Westminster:
The University of Westminster boasts a vibrant learning environment attracting more than 20,000 students from over 150 nations and we continue to invest in our future with new developments, research projects and new ideas.
We offer highly attractive practice-based courses that are independently rated as excellent, many with international recognition. Our distinguished 180-year history has meant we lead the way in many areas of research, particularly politics, media, art and design, architecture and biomedical sciences, and our position in the city of London allows us to continue to build on our close connections with leading figures and organisations in these areas as well as in the worlds of business, information technology, politics and law.
Our commitment to educating graduates for the needs of professional life attracts high quality students from within the UK and around the globe.
Internationalisation, employability and sustainability are key elements in the University of Westminster's vision for the future and we strive to ensure the very highest standards are met and maintained.
Here we hope you find everything you will need to research, write and publish your story or blog post.