Max Clifford lives up to his reputation at fiery University debate
23 February 2010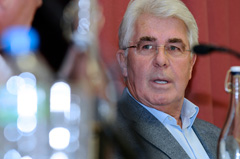 The panel was made up of Clifford, whose past clients include Jade Goody and Rebecca Loos; Trevor Beattie, an adman whose controversial campaigns marketed Wonderbra and French Connection; Julian Linley, the former editor of HEAT magazine and public relations guru Mark Borkowski, author of a book on Hollywood fame.
The 'Celebrity Brands – Desire, Dollars and Danger?' debate, held in the Old Cinema at the University's Regent Street building, was chaired by Trevor Morris, University of Westminster Visiting Professor, and co-author of 'PR – A Persuasive Industry?'
"The sell-out audience of 350 was somewhat taken aback when Max Clifford took several phone calls whilst on stage", said Trevor.
"He claimed one was from Simon Cowell, though some think it was a classic Clifford set-up. When criticised from the floor for his 'rudeness', Clifford replied along the lines of I'm not being paid for this, but my clients pay me a lot of money."
The debate was followed by a drinks reception sponsored by the Public Relations Consultants Association.
Ends
---
About the University of Westminster:
The University of Westminster boasts a vibrant learning environment attracting more than 20,000 students from over 150 nations and we continue to invest in our future with new developments, research projects and new ideas.
We offer highly attractive practice-based courses that are independently rated as excellent, many with international recognition. Our distinguished 180-year history has meant we lead the way in many areas of research, particularly politics, media, art and design, architecture and biomedical sciences, and our position in the city of London allows us to continue to build on our close connections with leading figures and organisations in these areas as well as in the worlds of business, information technology, politics and law.
Our commitment to educating graduates for the needs of professional life attracts high quality students from within the UK and around the globe.
Internationalisation, employability and sustainability are key elements in the University of Westminster's vision for the future and we strive to ensure the very highest standards are met and maintained.
Here we hope you find everything you will need to research, write and publish your story or blog post.