Lord Birt receives honorary degree from 'pioneering' Westminster
22 January 2010
He received the award at a presentation ceremony for postgraduates of the University's School of Media, Arts and Design at London's Southbank centre.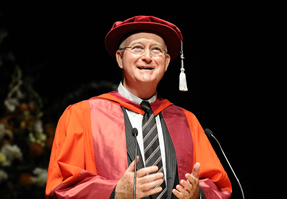 Addressing postgraduates, their family and friends, Lord Birt (pictured at the ceremony) said that although he had received honorary degrees before, "none of them means as much as this one".
"The University of Westminster is a pioneer of serious academic study of the media," he said. "It covers the whole spectrum of media studies, from the theory through to the practice."
He added that although media industries faced challenges because of the current world recession, he was "envious" of those graduating now to begin a career in media, arts and design.
"The media has never been so exciting – you are the lucky ones," he told his audience.
Introducing Lord Birt, Sally Feldman, dean of the School of Media, Arts and Design – and a former editor of BBC Radio 4's Woman's Hour - said he had left a "remarkable legacy" at the BBC.
"His now infamous 'Producer's Choice' policy convinced people that the BBC represented value for money, and it was at his insistence that the Corporation took such a strong lead in the digital era," she said.
ENDS
---
About the University of Westminster:
The University of Westminster boasts a vibrant learning environment attracting more than 20,000 students from over 150 nations and we continue to invest in our future with new developments, research projects and new ideas.
We offer highly attractive practice-based courses that are independently rated as excellent, many with international recognition. Our distinguished 180-year history has meant we lead the way in many areas of research, particularly politics, media, art and design, architecture and biomedical sciences, and our position in the city of London allows us to continue to build on our close connections with leading figures and organisations in these areas as well as in the worlds of business, information technology, politics and law.
Our commitment to educating graduates for the needs of professional life attracts high quality students from within the UK and around the globe.
Internationalisation, employability and sustainability are key elements in the University of Westminster's vision for the future and we strive to ensure the very highest standards are met and maintained.
Here we hope you find everything you will need to research, write and publish your story or blog post.