Legendary BIBA founder at Westminster
26 March 2010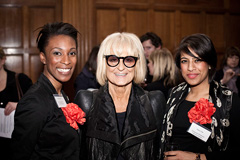 A packed audience of around 350 people watched an hour-long film, Beyond BIBA, and had an opportunity to ask the designer questions about her long career.
Now in her early seventies but still busy promoting new design ranges, Barbara Hulanicki (pictured right with University students Keisha John and Sonya Tak)
had travelled to London from her US base for a series of meetings with retailers.
She said: "I am amazed by the resurgence of interest in my creative ideas in fashion and interior design. I have never stopped creating since BIBA and have spread my wings to include interior hotel design. It's wonderful to witness this interest in my work."
The sell-out event at the University's Regent Street Old Cinema was organised by the newly-formed Fashion Retail Club, which is hosted by Westminster but is open to all UK fashion students and graduates, as well as fashion retailers.
Organiser Lorraine Harper said: "In the film Beyond BIBA and in her answers Barbara demonstrated her infinite and continuing creativity. She is a design guru and the event provided an object lesson and inspiration to all the students and graduates present."
The Fashion Retail Club was launched at the end of last year to create a new bridge between academia and the world of fashion retail. It is hoped that the club will help members secure placements, internships and jobs with a number of leading retailers such as River Island, who sponsored the evening.
Lorraine Harper worked with Barbara Hulanicki at BIBA and is now a consultant to the University and executive advisor to the Fashion Retail Club.
Photo credit: Magnus Arrevad/WestPHOTO
---
About the University of Westminster:
The University of Westminster boasts a vibrant learning environment attracting more than 20,000 students from over 150 nations and we continue to invest in our future with new developments, research projects and new ideas.
We offer highly attractive practice-based courses that are independently rated as excellent, many with international recognition. Our distinguished 180-year history has meant we lead the way in many areas of research, particularly politics, media, art and design, architecture and biomedical sciences, and our position in the city of London allows us to continue to build on our close connections with leading figures and organisations in these areas as well as in the worlds of business, information technology, politics and law.
Our commitment to educating graduates for the needs of professional life attracts high quality students from within the UK and around the globe.
Internationalisation, employability and sustainability are key elements in the University of Westminster's vision for the future and we strive to ensure the very highest standards are met and maintained.
Here we hope you find everything you will need to research, write and publish your story or blog post.