Film and TV receives Awards and Accolades in London, Manchester and Munich
8 January 2010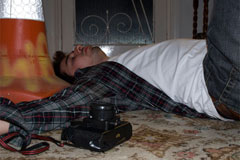 Over 300 films were entered for the three day Exposures festival, 40 were selected for screening and Westminster's entries were first and second in the competition. 'Prick', directed by Ryan Vernava, written by Richard Manders and produced by Krystian Jones, is a drama about contemporary youth culture, following a protagonist who is forced, as the film develops, to confront the consequences of his actions. 'Tears of the Son', produced by Emma Schofield and written by Tom Coldrick received an honourable mention' as the runner up.
'Tears of the Son' was also selected in competition at the Munich International Festival of Film Schools in November, and its director, Dean Threadgold, was invited to attend the week-long festival. He found it "a fantastic opportunity to network with like-minded filmmakers from around the world." Peter Hort, Course Leader for BA Film and Television Production, commented that "our students have set the bar very high this year, and the challenge is to make sure that we can continue to offer an environment where they can be both creative and professional."
---
About the University of Westminster:
The University of Westminster boasts a vibrant learning environment attracting more than 20,000 students from over 150 nations and we continue to invest in our future with new developments, research projects and new ideas.
We offer highly attractive practice-based courses that are independently rated as excellent, many with international recognition. Our distinguished 180-year history has meant we lead the way in many areas of research, particularly politics, media, art and design, architecture and biomedical sciences, and our position in the city of London allows us to continue to build on our close connections with leading figures and organisations in these areas as well as in the worlds of business, information technology, politics and law.
Our commitment to educating graduates for the needs of professional life attracts high quality students from within the UK and around the globe.
Internationalisation, employability and sustainability are key elements in the University of Westminster's vision for the future and we strive to ensure the very highest standards are met and maintained.
Here we hope you find everything you will need to research, write and publish your story or blog post.