Westminster plays leading role in "Contextualising Islam in Britain" report
9 October 2009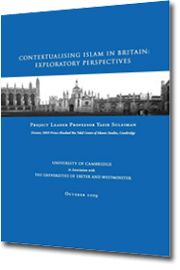 The study, entitled Contextualising Islam in Britain: Exploratory Perspectives, was launched this week by the University of Cambridge, and can be downloaded at (http://www.cis.cam.ac.uk/CIBP.html).
It marks the culmination of a nine-month research project which was hosted by Cambridge in association with Westminster and the University of Exeter. Westminster's Dr Abdelwahab El-Affendi, reader in politics and co-ordinator of the University's Democracy and Islam Programme at its Centre for the Study of Democracy, was a member of the research steering committee.
Twenty-six Muslim scholars, academics and activists - representing a diverse spectrum of views from Muslim communities in the UK - took part in discussions about what it means to live as a Muslim in modern Britain.
The report, which covers a wide range of issues including secularism, democracy, Shariah law, human rights and citizenship, presents the group's conclusions and aims to act as the basis for a wider discussion with other Muslim leaders and communities around the UK.
In time, it is hoped that this will lead to the development of what the report calls a virtual "House of Wisdom", providing space for discussion among both Muslims and non-Muslims on how Islam should function in modern Britain and contribute to wider society.
The research project was funded by the Department for Communities and Local Government but remained independent of both government and the universities involved.
Members were invited to participate by a steering committee of academics and activists. Members of the project set their own agenda, choosing items for discussion and meeting five times between February and May 2009 to debate these issues before producing the final report.
The document is, however, only intended to mark the start of the debate, said Professor Yasir Suleiman, project leader and director of the Centre of Islamic Studies at Cambridge. "The report's contents are the ideas of a small group and they need to be refined by a wider number of participants."
"The process has already succeeded in bringing together Muslims from a wide range of backgrounds who, in spite of those different backgrounds, have been prepared to work together. What we want to do now is stimulate further dialogue with a wider group of Muslim leaders and communities," he said.
Minister for Communities Shahid Malik said: "This is a ground-breaking report from a wide cross-section of British Muslim scholars, academics and community leaders. I hope that this report by Cambridge will inspire wider debate from communities across the country on the values that we all share.
"Following the terrorist attacks in New York and London, many Muslim leaders expressed concern that their religion was being misrepresented and misinterpreted. The silent majority of Muslims have since fought hard to restate their religion as they see it and this report is an important contribution to that."
ENDS
---
About the University of Westminster:
The University of Westminster boasts a vibrant learning environment attracting more than 20,000 students from over 150 nations and we continue to invest in our future with new developments, research projects and new ideas.
We offer highly attractive practice-based courses that are independently rated as excellent, many with international recognition. Our distinguished 180-year history has meant we lead the way in many areas of research, particularly politics, media, art and design, architecture and biomedical sciences, and our position in the city of London allows us to continue to build on our close connections with leading figures and organisations in these areas as well as in the worlds of business, information technology, politics and law.
Our commitment to educating graduates for the needs of professional life attracts high quality students from within the UK and around the globe.
Internationalisation, employability and sustainability are key elements in the University of Westminster's vision for the future and we strive to ensure the very highest standards are met and maintained.
Here we hope you find everything you will need to research, write and publish your story or blog post.