Westminster's David gets top marks for teaching from his former students
15 October 2009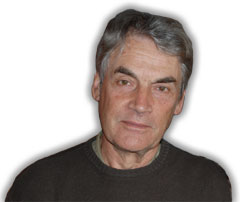 He won the Society's prestigious Excellence in the Teaching of Psychology Award for 2009 after being nominated by former students, including two who are now distinguished academic psychologists.
David a senior academic in psychology who has been teaching at Westminster since 1970 and has written and edited several popular textbooks for psychology undergraduates - said he was delighted to have won the award for doing a job he describes as "the best in the world".
He said: "I am absolutely delighted to receive this award. This is definitely one of the high points of my very lengthy career. It is very flattering to find that our students - or at least some of them - seem to like my lectures, but I am not entirely sure of the reasons for this.
"The only explanation I can think of is that I really love teaching, and if I am having lots of fun giving the lecture then maybe that makes it more fun for the students too. The bottom line is that I honestly believe that I have the best job in the world," said David.
Head of the Department of Psychology within the School of Social Sciences, Humanities and Languages, Professor Hazel Dewart, said: "David has been a consistently popular lecturer at the University over the last four decades and many former students remember his lectures as inspirational experiences."
"The fact that he was put forward by a number of his previous students - and that two of these are now very distinguished academic psychologists - speaks volumes for David's teaching," she said.
The Society says it makes the award because "without inspiring and dedicated teachers the profession of psychology would wither".
The Society will confer free life membership on David and he will be presented with a commemorative certificate at its annual conference in April 2010, at which point he will also be asked to give an invited paper on some aspect of teaching psychology.
ENDS
 
---
About the University of Westminster:
The University of Westminster boasts a vibrant learning environment attracting more than 20,000 students from over 150 nations and we continue to invest in our future with new developments, research projects and new ideas.
We offer highly attractive practice-based courses that are independently rated as excellent, many with international recognition. Our distinguished 180-year history has meant we lead the way in many areas of research, particularly politics, media, art and design, architecture and biomedical sciences, and our position in the city of London allows us to continue to build on our close connections with leading figures and organisations in these areas as well as in the worlds of business, information technology, politics and law.
Our commitment to educating graduates for the needs of professional life attracts high quality students from within the UK and around the globe.
Internationalisation, employability and sustainability are key elements in the University of Westminster's vision for the future and we strive to ensure the very highest standards are met and maintained.
Here we hope you find everything you will need to research, write and publish your story or blog post.