University kicks off new partnership with Brentford FC
15 October 2009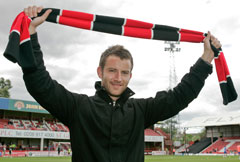 The University's School of Law has agreed a two-year partnership with the clubs supporters trust, Bees United, making use of government-backed financial support from the Knowledge Transfer Partnership (KTP) to help the team developing the new stadium planned for Lionel Road, Brentford.
The University's KTP unit has facilitated the appointment of a new business and research executive to work with the Bees United project team. Mathew Rea, who holds an MBA degree and is a former Manchester United youth player, began working with the project team last week.
Steve Greenfield of Westminsters Centre for Law, Society and Popular Culture, said the project highlighted how universities can work with communities to transfer knowledge and expertise.
"This is an exciting project that will bring benefit to the football club and wider community in Brentford. We are very pleased to be able to make use of our KTP expertise to facilitate this new appointment to help progress the project."
Bees United's Chris Gammon said: "We are really lucky to have the benefit of this partnership with the University of Westminster and to work with Mathew. He will bring fresh knowledge and energy to our thinking about how we can make the new stadium vision a reality in the difficult economic climate we are facing."
Mathew Rea has an MBA from the University of Liverpool, where he was tutored by Dr Rogan Taylor, the well-known advocate of supporters' involvement in the football industry. Mathew also has experience in property development and public transport planning.
Brentford FC, who were promoted last year as champions of Coca Cola League Two and won the Football League Two Community Club of the Year Award, is working through a subsidiary company and housing developer Barratt Homes to deliver a 20,000-seat stadium and community facilities, funded by the development of new residential units.
KTPs are funded by the Governments Technology Strategy Board and aim to "help businesses to improve their competitiveness and productivity through the better use of knowledge, technology and skills that reside with the UK knowledge base."
ENDS
---
About the University of Westminster:
The University of Westminster boasts a vibrant learning environment attracting more than 20,000 students from over 150 nations and we continue to invest in our future with new developments, research projects and new ideas.
We offer highly attractive practice-based courses that are independently rated as excellent, many with international recognition. Our distinguished 180-year history has meant we lead the way in many areas of research, particularly politics, media, art and design, architecture and biomedical sciences, and our position in the city of London allows us to continue to build on our close connections with leading figures and organisations in these areas as well as in the worlds of business, information technology, politics and law.
Our commitment to educating graduates for the needs of professional life attracts high quality students from within the UK and around the globe.
Internationalisation, employability and sustainability are key elements in the University of Westminster's vision for the future and we strive to ensure the very highest standards are met and maintained.
Here we hope you find everything you will need to research, write and publish your story or blog post.