Higher education minister praises Westminster's community involvement
13 November 2009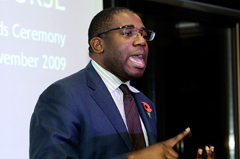 Twenty Haringey residents completed the course, run jointly by the University and Haringey Neighbourhood Management, earlier this year. The minister (pictured), who is MP for Tottenham said the course represented a good example of best practice which was in line with government policy to encourage universities to engage with local communities.
Course leader Dr Claudette Carr said the course focused on the complex relationships between public, voluntary and private-sector organisations and citizens and their communities.
"What makes this short course unique is the way it brings together people from many different walks of life within the community.
"Since it began in 2004, participants have gone on to play very much more active roles in Haringey, including standing for election to the council and being invited to make a presentation at the Ministry of Justice," she said.
Mr Lammy spent about an hour chatting to those attending the awards ceremony held at the University's New Cavendish Street Pavilion venue. He had earlier been welcomed by Professor Jane Lewis, dean of the School of life Sciences, and Sue Grant, neighbourhood manager for Northumberland Park and White Hart Lane in Haringey.
Around 80 people have completed the Community Leadership course this year. It is organised by Dr Carr and Geoff Wykurz.
ENDS
---
About the University of Westminster:
The University of Westminster boasts a vibrant learning environment attracting more than 20,000 students from over 150 nations and we continue to invest in our future with new developments, research projects and new ideas.
We offer highly attractive practice-based courses that are independently rated as excellent, many with international recognition. Our distinguished 180-year history has meant we lead the way in many areas of research, particularly politics, media, art and design, architecture and biomedical sciences, and our position in the city of London allows us to continue to build on our close connections with leading figures and organisations in these areas as well as in the worlds of business, information technology, politics and law.
Our commitment to educating graduates for the needs of professional life attracts high quality students from within the UK and around the globe.
Internationalisation, employability and sustainability are key elements in the University of Westminster's vision for the future and we strive to ensure the very highest standards are met and maintained.
Here we hope you find everything you will need to research, write and publish your story or blog post.