Dean wins prestigious international architecture research prize
1 December 2009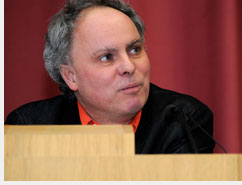 Professor Till's book Architecture Depends has been awarded the 2009 RIBA Presidents' Award for Outstanding University-located Research - just two years after he won the award for a previous work.
And it follows last year's success in the same award category by the University's Professor Murray Fraser to complete a hat-trick of success for Westminster.
The 2009 judges commented: "This is a timely book that questions many assumptions about the practice of architecture and the position of the architect in contemporary society. The book is a delight to read, gliding effortlessly through social, ethical, political and philosophical arguments to prove the contingent nature of architecture's varied and restless practices."
Professor Till said: "With Professor Murray Fraser from our Department of Architecture also winning the award in 2008 for his book Architecture and the Special Relationship, this makes an unprecedented hat-trick of wins for Westminster staff, consolidating our position as one of the world's leading centres for the study of architecture."
ENDS
---
About the University of Westminster:
The University of Westminster boasts a vibrant learning environment attracting more than 20,000 students from over 150 nations and we continue to invest in our future with new developments, research projects and new ideas.
We offer highly attractive practice-based courses that are independently rated as excellent, many with international recognition. Our distinguished 180-year history has meant we lead the way in many areas of research, particularly politics, media, art and design, architecture and biomedical sciences, and our position in the city of London allows us to continue to build on our close connections with leading figures and organisations in these areas as well as in the worlds of business, information technology, politics and law.
Our commitment to educating graduates for the needs of professional life attracts high quality students from within the UK and around the globe.
Internationalisation, employability and sustainability are key elements in the University of Westminster's vision for the future and we strive to ensure the very highest standards are met and maintained.
Here we hope you find everything you will need to research, write and publish your story or blog post.