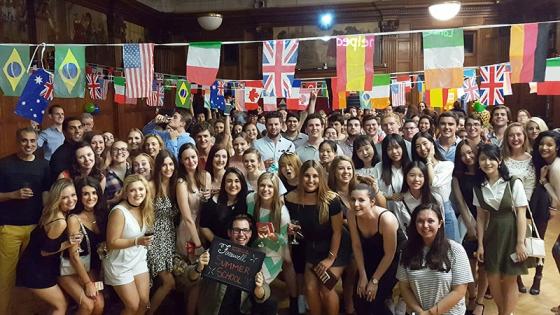 The Fulbright University of Westminster Summer Institute is a three-week academic and cultural programme for US students focusing on developing a global skills set and leadership skills while studying classes from a range of subjects from liberal arts, media, art and design, and business.
This Summer Institute's theme is 'Future Leaders in a Global Age' and the institute offers participants an unrivalled opportunity to live and learn in an international context. Classes are chosen from the university's London International Summer Programme. Module choices include:
Entertaining London
The Business of Sport
Power of Brands
Television in London
Photographing the City: London
London: Cultural Capital of the World
Multimedia Journalism: the London Experience*
Jack the Ripper's London: Myth, Reality and the Victorian Metropolis
Art and Society
Monarchy: A Royal History of London
Londinium to the Blitz: London through its Museums
Cinematic Justice
*This class does not include field trips around London.
Participants in this programme will get the opportunity to:
Attend 2 specialist Global Leader workshops that are designed to examine and challenge participants' approaches to the intercultural competencies needed in the professional world of the 21st century and leadership effectiveness and development
Choose one of several modules from a range of classes with internationally focused curricula
Be immersed in the life of a British university on a stimulating academic programme in the heart of one of the world's most exciting cities
Use London as a classroom to enhance learning, with most modules offering participants the opportunity to apply their classroom learning in a real world space
Meet people from all over the world, make friends and sample what life is like as a student in the UK
Undertake assessments designed to educate you with real world skills required for your future professional life
Participate in our programme networking events and social programme to maximise cultural exposure and help participants build an international network
Receive 4 US transferable credits, subject to prior arrangement between the participant and his/her home institution
Become an ambassador for Fulbright and the prestigious internationally renowned University of Westminster, London
The Institute will take place from 7–28 July 2018.
To make an application to participate in the University of Westminster's Fulbright Summer Institute visit the Fulbright Commission website.
All applications for the Fulbright-University of Westminster Summer Institute must be made via the Fulbright Commission. The deadline for applications to the Institute is 7 February 2018 by midnight EST.