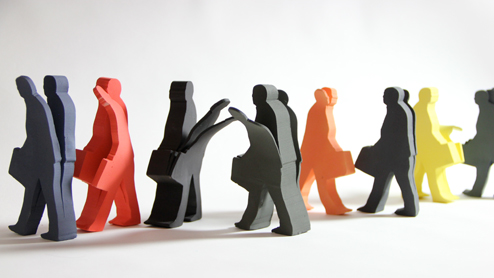 The University of Westminster is opening an exhibition on 20 April in conjunction with Contemporary Applied Arts, a charitable organisation, aimed at promoting the best in contemporary British craft, to celebrate the talents and achievements of the graduates of its internationally acclaimed British art course: BA Ceramics, previously known as the Harrow Studio Pottery Course.
The exhibition 'Tradition and Innovation: Five Decades of Harrow Ceramics', which will run until 9 June, will bring together recent works by more than 50 students and staff from the past five decades, featuring a full range of creative concerns in contemporary ceramics including functional tableware, architectural ceramics, abstract vessels, sculpture, site-specific installation, performance and video work. 
The list of exhibitors includes many internationally renowned artists as well as exciting new talents:
Functional designs by Walter Keeler, Alice Mara, Janice Tchalenko, Micki Schloessingk and Daniel Smith;
Elegant thrown forms by Kyra Cane, Jane Hamlyn, Joanna Howells and Prue Venables;
Abstract and experimental vessels from Alison Britton, Steve Buck, Delfina Podda,Sarah Scampton, Barry Stedman and Marie Torbensdatter Hermann;
Sculpture by Christie Brown, Christine Hurford, Mo Jupp, Aneta Regel Deleu and Richard Slee along with Matt Smith's subversive figurines and an installation by  Lawrence Epps (winner of the Fresh Award at the 2011 British Ceramics Biennial);
Site-specific installation and architectural ceramics are represented by large scale projections featuring works by Dominique Bivar Segurado, Detta Fane, Naja Utzon Popov, Benedikt Strebel, Clare Twomey and Edmund de Waal;
Performance works on video come from Brigit Connolly, Philip Lee and Sylvain Thirouin
Window display by ceramic/industrial designer Caterina Fadda of FaddaSantos
The exhibition has been curated by Tessa Peters, senior lecturer in the School of Media, Arts and Design at the University of Westminster, and is accompanied by an 80 page fully illustrated publication which presents a history of the Harrow Ceramics Course against a background of changing social, aesthetic and educational ideas. A full programme of events with can be found here.
The exhibition will coincide with the degree show of the last cohort of the University's BA Ceramics students. The University of Westminster Ceramics Research Group continues through the AHRC funded major research project, Ceramics in the Expanded Field.