Centre for the Study of Democracy
Funded research
People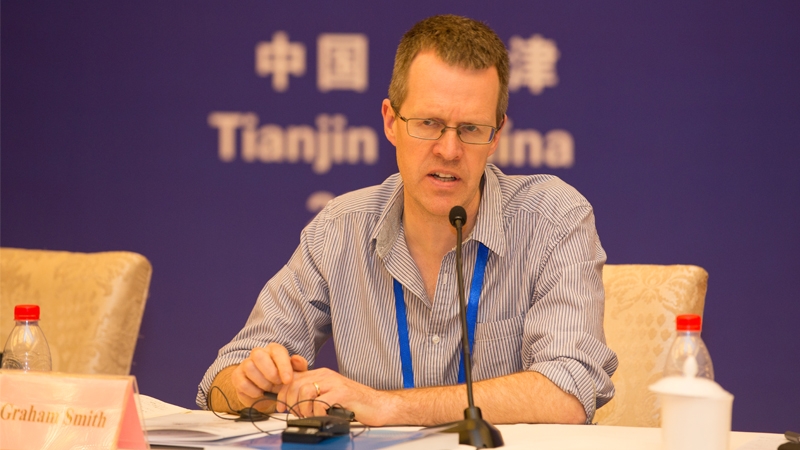 Graham Smith is the Principal Investigator on the Scholio Project. He is Professor of Politics and Director of Centre for the Study of Democracy, University of Westminster, UK. Graham is a specialist in democratic theory and practice and environmental politics. His publications include the influential monograph Democratic Innovations: Designing Institutions for Citizen Participation (2009).
Graham is an investigator on a number of international research projects on democratic engagement, including Participedia, a global knowledge platform on participatory governance, Cherry-picking, analyzing the fate of proposals from participatory processes, and Democracy Matters, that organised pilot constitutional citizen assemblies in the UK. He is Chair of the Foundation for Democracy and Sustainable Development.
Email: [email protected]
Michael E. Morrell is Co-Investigator on the Scholio Project. He is an Associate Professor in the Department of Political Science at the University of Connecticut (UConn) and a Core Faulty member of the Humility and Conviction in Public Life project at the UConn Humanities Institute. He also currently serves as the Co-President for the Association for Political Theory. Michael received his PhD in political science from Arizona State University and specializes in deliberative democracy, democratic theory, political psychology and emotions in politics.
He published his book Empathy and Democracy: Feeling, Thinking and Deliberation with Penn State University Press in 2010, and his research has appeared in Political Behavior, Political Research Quarterly, Public Opinion Quarterly, and in Deliberative Mini-Publics: Practices, Promises, Pitfalls (2013, ECPR Press). He is a research collaborator on the Citizens Initiative Review Research Project housed at Penn State University.
Email: [email protected]
Paolo Spada is Co-Investigator on the Scholio project. He has a dual PhD in economics and political science and has been a Fellow in leading research centres dedicated to public participation at Harvard, the University of British Columbia, and the University of Southampton. Paolo is currently based at the Centre for Social Studies in Portugal working with a consortium of universities and firms on the development and evaluation of Empatia: a digital platform for public participation.
Paolo's research explores the diffusion and impact of governance and social innovations aimed at deepening democracy in public administration, parties and organisations. Paolo's recent work has been published in News, Media and Society, Political Science and Politics, the Journal of Information Technology and Politics, and Foreign Affairs. More information is available on Paolo's website.
Email: [email protected]