The Soho Poly, based in our Lower Titchfield Street building from 1972-1990, was one of London's most important post-war alternative theatre venues. The theatre was ahead of its time in promoting diverse voices, supporting BME, LGTBQ+ practitioners, and women in particular. It is also one of the very last venues from the period that exists in its original form - a site of significant historical importance for London.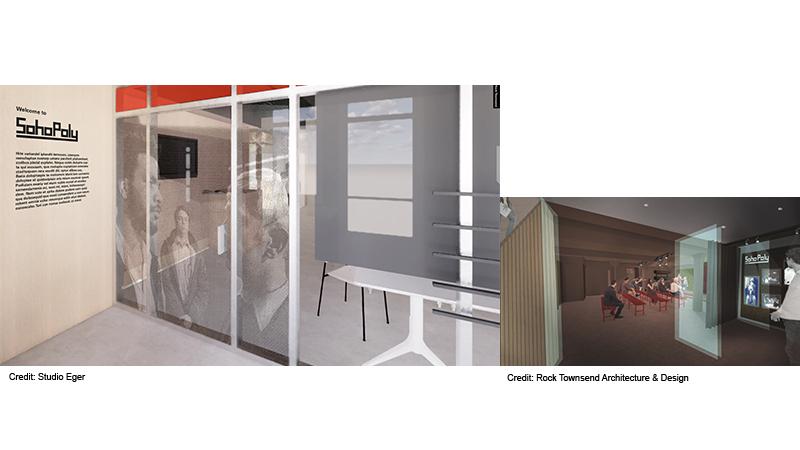 Project funding
Following the success and impact of the events already hosted in the re-discovered space, a project to fully restore and renovate the theatre to its former glory is now underway, with the launch of an official fundraising campaign for just over half a million pounds.
Chaired by Janet Jones, Head of College (Digital Creative and Design Industries), the Soho Poly Fundraising Group are seeking funding for the full refurbishment of the theatre and the creation of a dynamic exhibition space on the floor directly above. The funding will allow for a complete modernisation of the building – including disabled access and ensuring it meets 21st century health and safety regulations.
The restoration of the Soho Poly theatre will add considerable value to the University, which will be seen as a leader in the preservation of cultural heritage, and a pioneer of new cultural production
To advance the accompanying heritage preservation work, we are also applying to a major heritage funder. This bid will include proposals for: a three-year schools' engagement programme; the collection of oral histories from many practitioners in later life and a major on-site heritage interpretation programme. This does not include capital costs. 
Since 2012, we have successfully revived the Soho Poly Theatre, by running pop-up arts festivals, gigs, play-readings, poetry events, book launches and exhibitions. We have also engaged in vital outreach work. 
We are now in a prime position to approach funders for capital costs to renovate our historic theatre. If you would like to donate or learn more about the project, please contact: [email protected].
Further information
Find out about the history and events that have taken place to reinvigorate this venue on the Soho Poly project page.
Watch this video to find out more about Soho Poly and the restoration project: